Aquatic Interpreter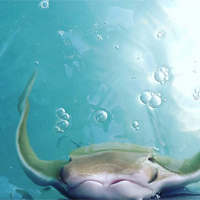 Volunteer Description:

Volunteers in this position are interpreters inside the Museum's Stingray Touch exhibit! They help guests engage in being touched by the rays and feeding experiences; they also provide interpretation of the aquatic collection and provide information about the Sea of Cortez.

Schedule an Interview

If you would like to learn more about the Aquatic Interpreter position and schedule and interview please contact Lauren Malanga at

[email protected]

or call 520-883-3071

Benefits:

This is a unique opportunity to volunteer with marine animals at an AZA accredited facility. Aquatic Interpreters get the chance to expand upon their public speaking skills, while gaining knowledge of species related to the Sea of Cortez.

Requirements:

Applicants must be 18 years of age or older. Applicants must also be able to make at least a 5 month commitment, volunteering once a week for 4-4.5 hours. A half day training is required. Please choose from one of the following dates: Saturday, September 8 (8:00-12:00) or Friday, October 5 (8:00-12:00). Applicants should have an outgoing personality and an eagerness to share information with museum guests; they should also be able to retain information that will be communicated to guests. Applicants must also be willing to endure (shaded) outdoor weather conditions throughout the year. Volunteers in this position are required to purchase an official volunteer t-shirt ($10-$15).

Current Openings:

For summer: Saturdays 8:30am-1:00pm and 12:30pm - 4:30pm, Sundays 8:30am-1:00pm. Also recruiting for Fall 2018 all shifts and days.