Summer Open Studio Sessions
Join us at the Art Institute this summer for free open studio sessions. Discover the fun of working in a relaxed atmosphere where you chose your project. We will have classroom space and some materials available to inspire you and help you with your work. All at no cost to you. Bring your photos or paint from a still life set up, everyone who has taken a class with us this past year is welcome and encouraged to attend. Help with your project will be available on rotating days as needed.
Thursdays (July 18 - Aug 22) 9:00 a.m. to noon
Tuesdays (July 23 - Aug 20) 1:00 to 4:00 p.m.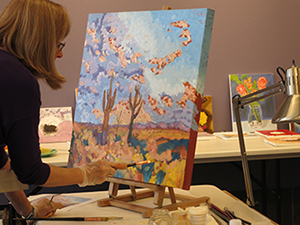 ---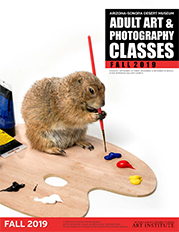 Fall 2019 Catalog of Classes
(PDF)
Receive a catalog in the mail
Conservation Through Art Education
Registration Desk
[email protected]
Contact Information
email: [email protected]
Phone: (520) 883-3024
Mail: 2021 N. Kinney Rd., Tucson, AZ 85743
Maps & Classroom Location (PDF)
Rules for Painting on Grounds at ASDM
Travel & Lodging Information
Advisors
Michael C. Baldwin
Priscilla V. Baldwin