'Good Times' Playing Cards - Skip Links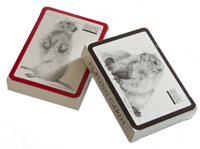 Buy direct from ASDM
Museum members, enter your membership (CID) number and click 'Apply':
Not a member? Join now
'Good Times' Playing Cards
$7.50
$7.00 Member Price
(Prices include $1.50 S&H)
Deck of 52 Playing Cards

Description
These delightful playing cards feature cute prairie dog illustrations by Priscilla Baldwin on the back. Available in red or black.