Otter This World! New Tweeter at the Desert Museum

Announcing the Desert Museum's new tweeting otter! What makes her different from other tweeting animals is that she triggers the tweets (and photos) herself! She'll be dispensing her views, advice, and desert trivia with style!
The system has been created in collaboration with the students participating in the EPICS (Engineering Projects In Community Service) project in their engineering class at Salpointe Catholic High School. Each year the class undertakes engineering projects from the community.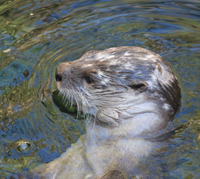 To create this tweeting system, the high school students worked with mentors from Rincon Research Corporation. Motion sensitive cameras installed in the otter exhibit trigger tweets and photos that post directly to the otter's Twitter account: @desertotter. Fans of the Museum worldwide can follow the otter's antics from home and learn more about her day to day life. Followers also get a huge dose of cute from the photos!
The Salpointe students are part of a class co-enrolled at the University of Arizona that undertakes community projects each year. Teacher Sarah Streb leads the class with the help of community mentors. The students develop real-world skills and learn to work with customers and hard deadlines. Mentor Charlie Cooper acknowledges that "this was an ambitious objective for a group of high school students but they pulled off a very cool project with sheer force of will."
Naming Contest
My name is Dot!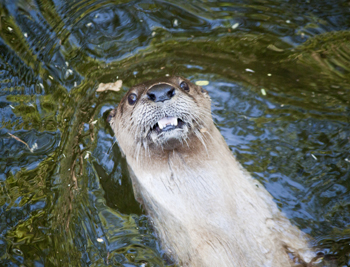 Smile for the camera!
Tucson News Now