---
High-quality, High-resolution pictures of buffelgrass at various life stages and various settings

Key characteristics for identifying buffelgrass

Hard copy is water-resistant and tear-resistant

PDF looks great on smart phones!
Buffelgrass on TV! Van Nguyen from the UA MPASA program volunteered with us for our recent Days of Caring Buffelgrass Removal Event in the Sunnyside Neighborhood. Van put together this short piece which aired on KVOA recently. There wasn't time to mention SABCC or Tucson Clean and Beautiful by name but we're still proud of it.
Thanks to Van and all our other hardworking volunteers!
at Buffalo Exchange!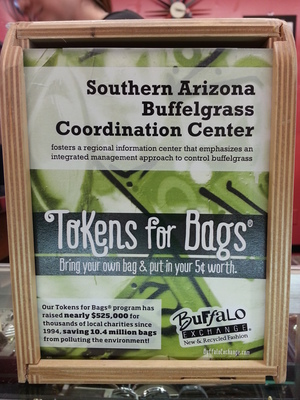 From July to December,

SABCC

is one of the featured charities at the Buffalo Exchange store on Speedway at

Campbell.

If you buy something at Buffalo Exchange (and we recommend that you do), when you get to the checkout counter, decline a bag and put the resulting token in the

SABCC

box. It is quite simple.

Visit

http://www.buffaloexchange.com/

for more information

.





Spencer and Kirsten Block opened Buffalo Exchange in 1974. It has now grown to 45 stores and 3 franchises in 17 states. Spencer wrote a book about the journey that was published posthumously in August 2011.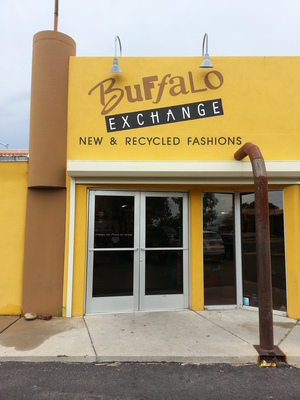 ---
The Southwest Fire Science Consortium has produced a 11 minute video of the work that SABCC is doing.
Read the article here
Why we are so focused on Buffelgrass in Southern Arizona - take a few minutes to view this short film.
"Buffelgrass and the fire it brings are poised to destroy our Sonoran Desert ecosystems and threaten public safety, possibly more effectively and faster than drought, development, or almost any other potential disaster." - Southern Arizona resident
Buffelgrass Invasion: Its Threat to the Sonoran Desert and Our Will to Stop It

Produced by: Mark Betancourt

Major Funding Provided by: Arizona-Sonora Desert Museum; Pima County Natural Resources, Parks & Recreation; Tohono O'odham Nation; National Park Service; Southern Arizona Native Plant Society; USDA-Forest Service; U.S. Geological Survey; Sandy Lanham; and Environmental Flying Services


Buffelgrass Center receives prestigious national award
The Southern Arizona Buffelgrass Coordination Center (SABCC) has been honored as one of 17 organizations nationwide to win the U.S. Department of Interior's coveted "2011 Partners in Conservation Awards."
The award, presented Sept. 21 by Interior Secretary Ken Salazar, recognizes SABCC for its integrated approach to mitigating the impacts of buffelgrass invasion in the Sonoran Desert. Introduced from Africa in the 1930's, buffelgrass is gradually replacing cacti and other native plants through competition, increases fire risk to ecosystems, people and property, and could eventually reduce tourism in southern Arizona.
Click here for more information
Download the press release
United Way Days of Caring and Make a Difference Day
October 23rd and 26th, 2013
We will be cleaning up buffelgrass from Airport Wash! Come help us make a difference, and learn how you can get rid of buffelgrass in your own neighborhood!
When: 8am-12pm on October 23rd and 26th, 2013
Location: Sunnyside Neighborhood Peace Garden, located near 12th Avenue and Drexel Road. Turn East on Calle Alvord off of 12th Ave until you reach Manuel Herrera Jr Park.
Parking: Parking located on side streets surrounding Manuel Herrera Jr Park (Calle Alvord, Liberty Ave, Calle Francita, S Fiesta Ave and W Finedale St).
Register your Neighborhood Association or other group on United Way starting on September 9th and get a free t-shirt!
Details: No children under 12 years allowed to work in the wash. This project will primarily involve digging buffelgrass and carrying out bags of buffelgrass, but some light work will also be available. Closed-toed shoes and long pants are required. Long-sleeved shirts are recommended. Also bring a hat, sunscreen and water bottle. Snacks and water provided.
---
For Past Events, select Read more »
Arizona Spotlight segment with Mark McLemore August 2010 (link)