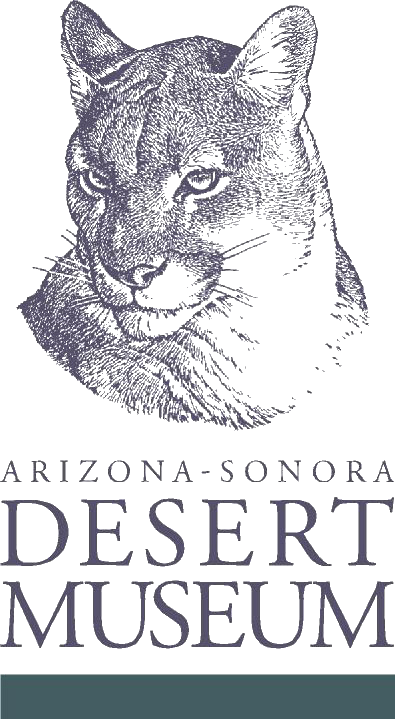 Why is ASDM's logo a mountain lion?
Frequently Asked Questions
about the Desert Museum
The Arizona-Sonora Desert Museum is a world-renowned zoo, natural history museum and botanical garden, all in one place. The Museum offers interpretive displays of living animals and plants native to the Sonoran Desert -- an arid region encompassing parts of Arizona and California in the United States and the Mexican states of Sonora and Baja California.
Opening day for the Desert Museum was Monday, September 1, 1952 (Labor Day).
On opening day the Desert Museum had 4 employees. Today it has more than 100 paid employees, nearly 200 docents and close to 300 other volunteers.
On a typical spring day the Desert Museum welcomes 2,500 visitors and 200 school children. Annual visitation has been around 460,000.
Yes, threatened and endangered species on exhibit at the Desert Museum include: Mexican wolf, thick-billed parrot, ocelot, margay, jaguarundi, desert pupfish, Sonora chub, bonytail chub, razorback sucker, Gila topminnow, Colorado River squawfish, Isla San Esteban chuckwalla and Apache trout.
Smallest: leafcutter ants. Largest: American black bear.
The oldest non-living animal is the Sonorasaurus dinosaur dating from the Cretaceous.
There have been a few escapes over the years. Probably the most famous was a "beaver breakout" which took place a number of years ago. One night, the beavers left their pond, waddled through the bighorn enclosure and escaped into the desert. The next morning Museum people followed their tracks, which headed west and before long stopped near a set of coyote tracks. Swirling beavertail prints in the sand showed how the beavers had made an about-face and headed back to the safety of their pond. They never attempted another escape.
The Museum entrance is at 2840 feet.
About 85% of the Museum is outside. About 15% of the exhibitry is indoors.
Yes, usually once or twice a year. Not surprisingly, the snow quickly melts off.
In 1984 we went 81 days without rain at the Desert Museum.
We average 87 days each year where the temperature is 100° F or higher.
Our average precipitation at the Museum is 14.68 inches. The month with the greatest rainfall is August (2.83 inches).
The high, which has been reached more than once, is 117° F.
Most visitors spend between 2 and 3 hours touring the Desert Museum, but as the Museum continues to grow, it is becoming harder and harder to "see it all" in such a short amount of time. Plan to come early and stay late!
The Desert Museum is primarily an outdoor experience, so wear a hat, sunscreen and comfortable shoes, or appropriate colder weather gear. Drinking fountains and shade ramadas are scattered throughout the grounds for your convenience. Also, all indoor exhibits are cooled for your comfort.
Yes, manual wheelchairs, strollers and electric scooter-style wheel chairs are available at a small charge to Museum visitors on a first come, first served basis.
They're docents -- specially trained Museum volunteers -- here to help you gain a better understanding of the complex relationships between the plants, animals and the natural environment of the Sonoran Desert. When you visit the Museum feel free to ask questions and interact with the docents and staff. Our goal is to help you better understand and appreciate this tough yet fragile environment.
This is not a place for pets--only trained service animals assisting visitors are permitted on the grounds.
We are open every day of the year!
October - February

8:30 a.m. to 5:00 p.m.

March - September

7:30 a.m. to 5:00 p.m.

(Note: It normally takes at least two hours to see all that the museum has to offer. We recommend you arrive before 4:00 p.m. No discounts are granted for later admission.)

June - August

Sunday - Friday 7:30 a.m. to 5:00 p.m.
Saturdays - 7:30 a.m. to 10:00 p.m.
General Admission (ages 13-64)
$21.95
Senior (ages 65+)
$19.95
Children (ages 3-12)
$8.95
Children (under 3)
FREE
Military (active/retired)
$17.95
Arizona/Sonora Resident (ages 13+)

Proof of residence is required with a valid form of one of the following:

Arizona or Sonora, MX Driver's License
Arizona or Sonora, MX State Issued I.D.
Arizona or Sonora, MX Vehicle Registration

$16.95