Archives: 2002 Winning Earth Day Poems
Overall Grand Prize Winner
6th Grade: Alexia Ben-Shabat
(Tucson Hebrew Academy)
Clash
Lightening falling in the desert
Smashing like a hammer
Geckos scurry behind a bush
Snake slithering to its burrow
Mountains shading the ground
Cactus giving details to the desert
Coyote howling to figures of the night
Rabbits jumping away from shadows
The smell of rain giving color to earth
The Sonora Desert
---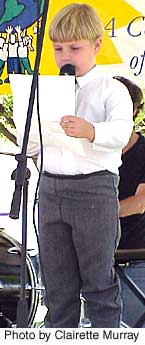 Kindergarten:
Daniel Giangardella (Kellond Elementary)

Desert Poem
The Desert lizards are pretty
As snakes move on the sand.
The sun shines brightly
On our beautiful desert land.
I love this beautiful desert!
---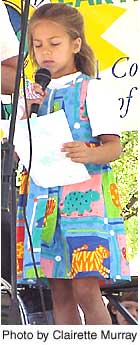 1st Grade:
Eliza Hard (Manzanita Elementary)

The Desert
In the Desert. . .
mountains, blue sky,
gila monsters, wonderful life,
turkey vultures, desert tortoise,
jack rabbits, rattlesnakes,
the bright sun,
and lots and lots of white clouds.
---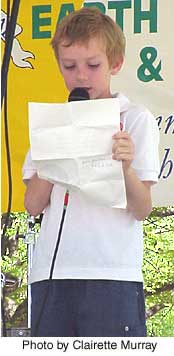 2nd Grade:
Michael Jerrick (Hudlow Elementary)
Saguaro Cactus
I am a saguaro cactus
That sees the sunrise
And feels the summer rain.
I hear the bees in my flowers
And when my fruit falls the
Desert creatures have a feast.

---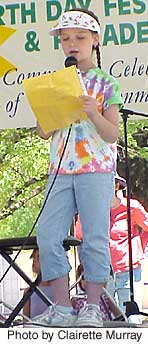 3rd Grade:
Elizabeth Rosenberg ((St. Cyril School)
The Secret Place
Two bright little beady eyes
Peering down at me. A feathered
Little body perched high in a
Saguaro. Silent, watchful . . .

I wander through the desert.
A cotton tail darts by me. A
Lizard scurries under a rock.
The beady eyes stay focused.

A morning dove calls out. The sun
is not yet hot, the desert is pleasant
I glance back to see the cactus wren
Still watching me, waiting, wondering . . .

I come in peace, to share the beauty
Of a secret place in my back yard. I
Will not hurt you, I try to tell it - but as
I speak, it flies away.
---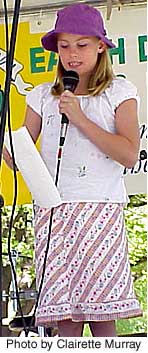 4th Grade:
Brooke Romanoski (St. Cyril School)
The Sunset
Beautiful, bright
Sunny, pink, yellow
Shining, rose, gleaming
Blinding, radiant, glowing
Sinking, burning
Horizon.
---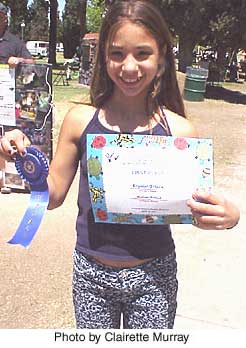 5th Grade:
Crystal O'Hara (Hudlow Elementary)
Earth Day
Earth is where people live.
As the desert is for animals.
As the sun is to brightness.
As the
Wind is to the Earth.