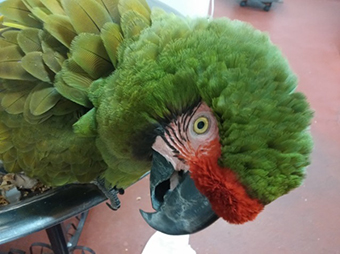 Museum Explorers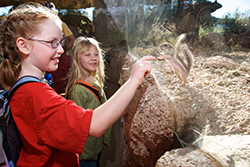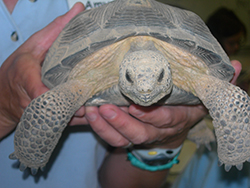 Fox: Entering Grades 1-2 in the Fall of 2018
Instructor: Robin Kropp
Are you curious about nature and want to go exploring? Fox Campers, get ready to journey through the Sonoran Desert Region as we explore every nook and cranny of the museum. From caves underground, to deserts and grasslands, to mountain woodlands on top of sky islands, we'll discover amazing diversity in our desert region. Our adventure includes investigating how desert creatures are adapted to survive in this dry environment. Our travels will also wind us through the many relationships between plants, animals and the environment. Through up-close animal encounters, hands-on activities, museum exploration and some fabulous art projects you can help us uncover the many wonders of our desert environment. Join us for the fun!
$225 Non-members
$200 Members
Sign Up Online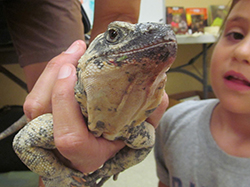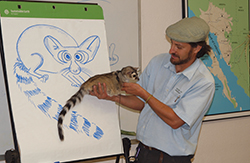 Bobcat: Entering Grades 3-4 in the Fall of 2018
Instructor: Jesús Manuel García
If you picture yourself face to face with a Barn Owl, exploring the intricate anatomy of a tarantula or having a behind the scenes tour at the desert museum, this summer camp is for you! In this camp we will experience close encounters with the flora and fauna of the Sonoran Desert Region and the Desert Museum. These activities will include a great variety of natural history programs such as nature journaling; live animal demonstrations, behind the scenes tour, hikes and exploration of the museum grounds and adjacent areas. It also includes a variety of hands-on activities related to desert ecology such as horticulture, basket weaving, musical instruments and primitive technology as well as amazing stories of the Ethnobotany and material culture of the People of the Desert; the Tohono O'odham, the Pima, the Seri, and the Yaqui.
$225 Non-members
$200 Members
Note: These camps are now full, but you can sign up to be added to the wait list.
Sign Up Online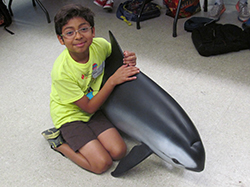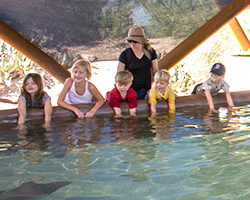 Sand Sharks: Entering Grades 5-6 in the Fall 2018
Instructor: Amy Orchard
Sharks to Seahorses, Snakes to Centipedes and Owls to Ocelots - just a small sample of what this camp will have to offer! The Sand Sharks Campers will have fun learning about all of the Sonoran Desert animals and plants that live on the land and in the water. Campers will meet live animals, go behind the scenes at animal exhibits, visit our Warden Aquarium, and the new Stingray Touch experience, hands-on scientific experiments and activities, do crafts, and so much more. Sand sharks will spend one day at the Biosphere 2 in the Marine Science Lab! This hands-on field and lab experience will introduce the campers to oceanography, marine biology and marine ecology! This camp will help participants understand the vital connection between the desert and it's sea. Campers will deepen their appreciation and understanding of the smallest to the biggest, from plankton to the black bear. This is a perfect camp for young inspiring biologists.
$225 Non-members
$200 Members
Sign Up Online
---
About the Instructors: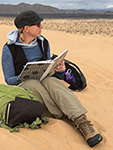 Amy Orchard has been an environmental educator since 1992. She has worked at Arches National Park as an interpretive ranger, at numerous river companies throughout the western US as a river guide and as an Education Specialist at the Desert Museum since 2000. Amy also is a registered yoga instructor (RYT 200) and loves teaching all ages and all levels of yoga. She enjoys her position at the museum working with the Junior docent program since 2000 as well as the being the lead coordinator and instructor for the Earth Camp programs since 2005. Amy's own two daughters are now on big adventures of their own, so she looks forward to spending lots of time with other youth. Amy is a certified Wilderness First Responder (many steps above basic first aid certification) and is current in CPR certification. Besides teaching and practicing yoga and working with teens, she enjoys riding her bike over Gates Pass, backpacking with her husband, star gazing and listening to the breeze move through the spines of a saguaro.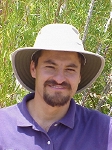 Jesús Manuel García was born and raised in Magdalena de Kino, Sonora, México. In 1987, after finishing a degree in Elementary Education at Escuela Normal del Estado in Hermosillo, Sonora, he moved to Tucson, Arizona. In 1996 he returned to school and attended Pima Community College and the University of Arizona, earning a Bachelor's degree in Ecology and Evolutionary Biology, with a minor in Cultural Anthropology. Jesús has been associated with the Arizona-Sonora Desert Museum since 1991, first as a Docent (volunteer) and then as an Education Specialist. Jesús teaches natural and cultural history and ecology to youth and adults throughout Southern Arizona and Northern Sonora. Jesús' research interests focus on the agricultural history of the borderlands. He is also an instructor in the Desert Museum's Art Institute. His other interests and talents include conservation biology, languages, music and gardening.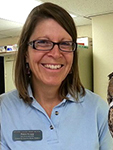 Robin Kropp has professionally shared her love of the natural world with children through adults since 1988. A Sonoran Desert native, she received her B.A. from the University of Arizona in Ecology and Evolutionary Biology, Latin American Studies, and Spanish in 1990, and completed her Masters in Education with a focus on Environmental Learning in 2003. She has been an Education Specialist at the Desert Museum since 1998 where she develops curriculum and teaches on-site and outreach programs for a variety of students. She also coordinates the Museum's Coati Pups and Coati Kids Club programs.